11th October, 2018 was fabulous day for Bangalore. Intuit hosted their 6th Annual Accessibility Summit in their Bangalore office.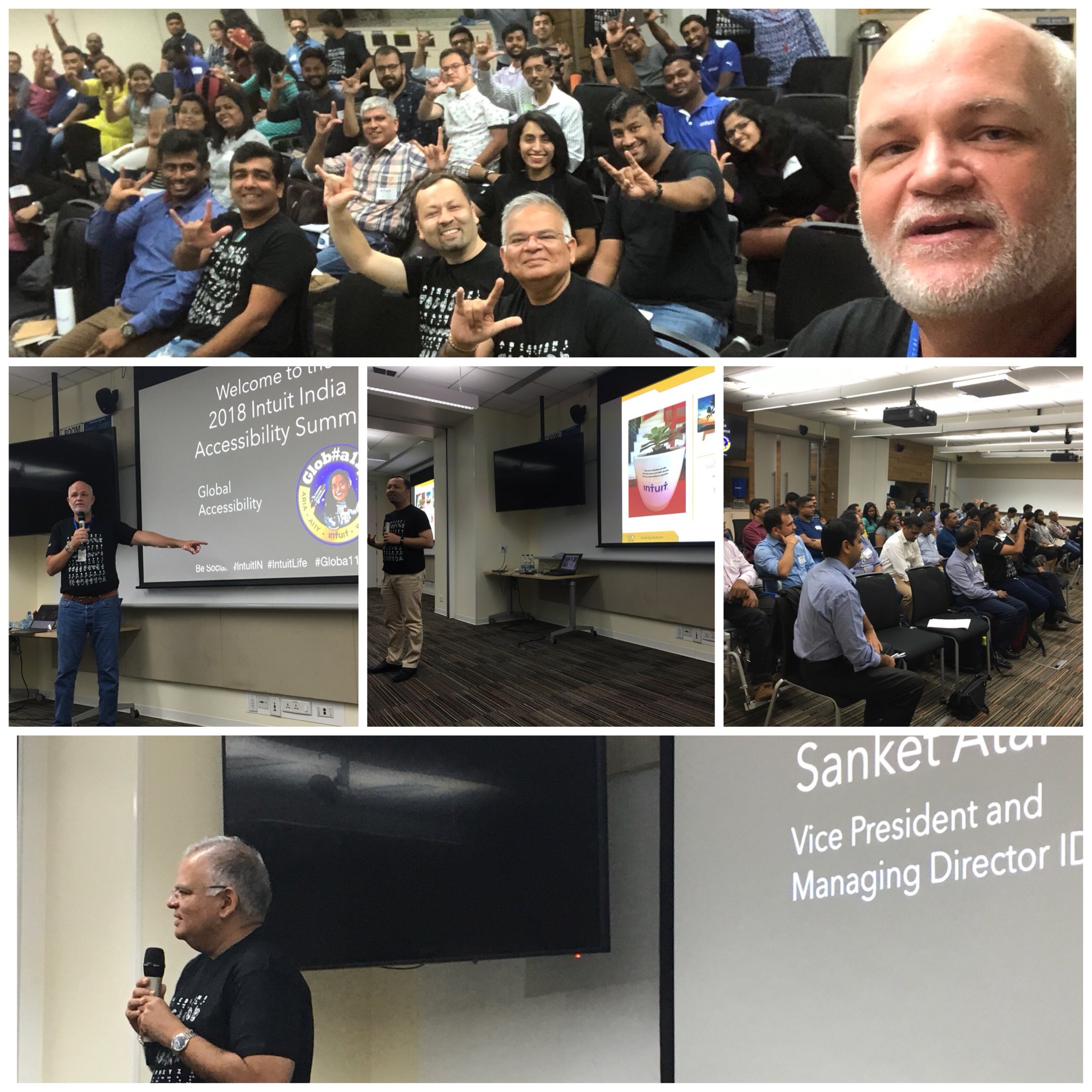 Summit has began with energiser by Prarthana, Co-founder of GiftAbled. Then summit was kicked off Ted Drake, Sanket and Somnath (leadership of Intuit) India.
First talk is by Bala from Google (ex-Intuit) talked about Next billion users where he talked how "voice" become more popular as an input method. He has also explained how much important the accessibility for Google's new billion project. 
Soon after a short break, I have delivered by Inclusive Design 24 talk on Building Accessible Websites with WordPress. I have started my talk with a brief introduction to myself, a little about WordPress, reasons as to why I would prefer to use wordpress as a platform, problem statement from accessibility prospective, talked about how one should choose themes from WordPress, my favorite plug-ins and finally some thoughts an author should consider while building websites with WordPress. In case you have missed mine and/or any other Inclusive Design24 talks, head over to Inclusive Design 24's YouTube Channel and you will be able to listen to all of the talks.
Then we left for lunch break! Food was tasty and awesome conversation with Prarthana… Oh, yes I had desert twice!! (Blame Prarthana, if it's against rules :-))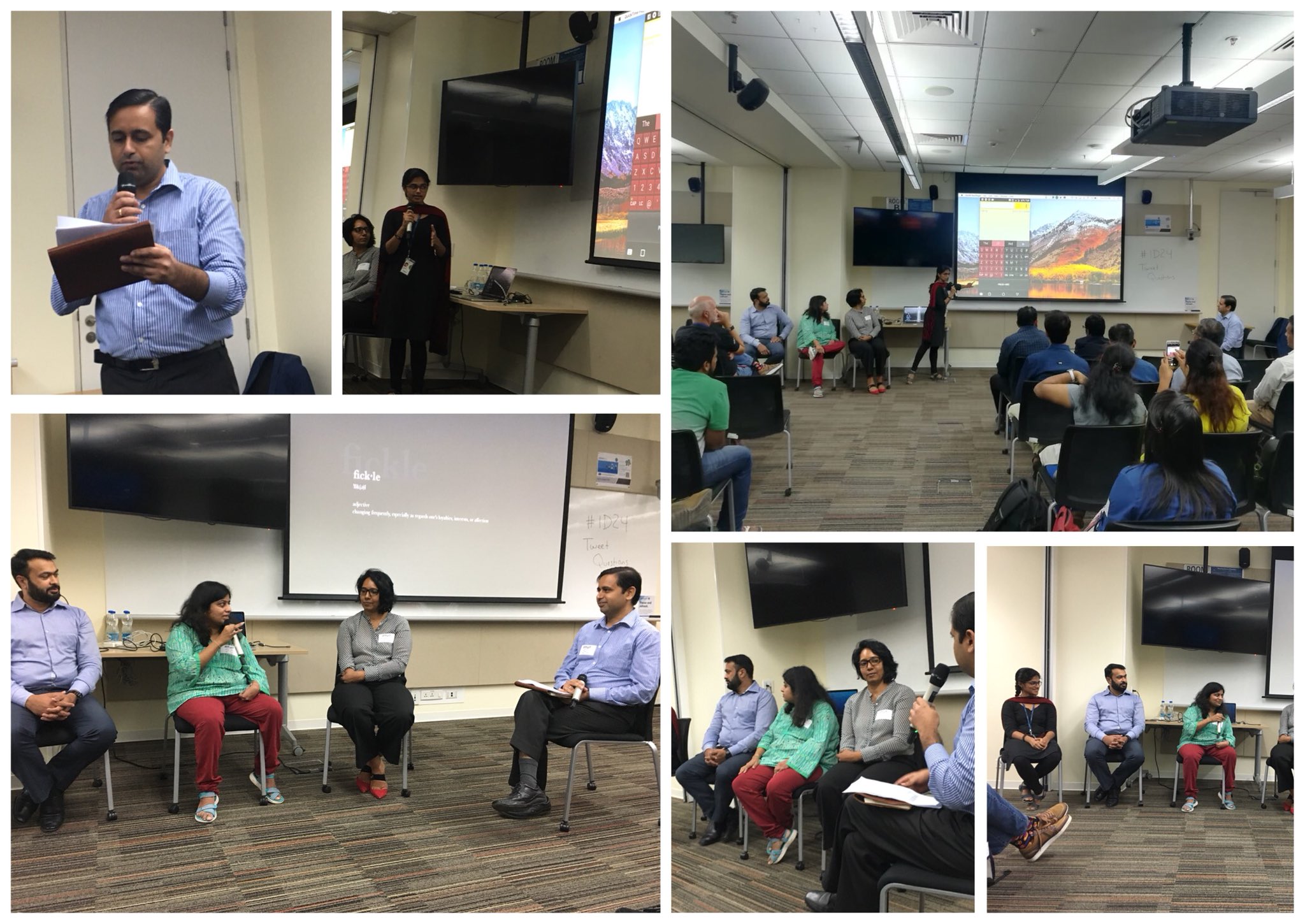 After having great lunch, again Prarthana did another energizer to make sure all of the participants are awake and that started first afternoon session with a panel discussion on "Accessible Life Style in Tech environment" moderated by Prateek Kaul, Co-founder of GiftAbled. During this panel, Aleena from Intuit did a demo of and Android keyboard they have created and intend to open source at some point. This keyboard can be used will have a single button interface. Other panelists Hatim from Cisco and Madhumitha from Coco cola shared their experiences in their diversity and inclusion journey. Final panelist Rajarajeswari, Founder of Arteius spoke about technologies they are building in the health care sector.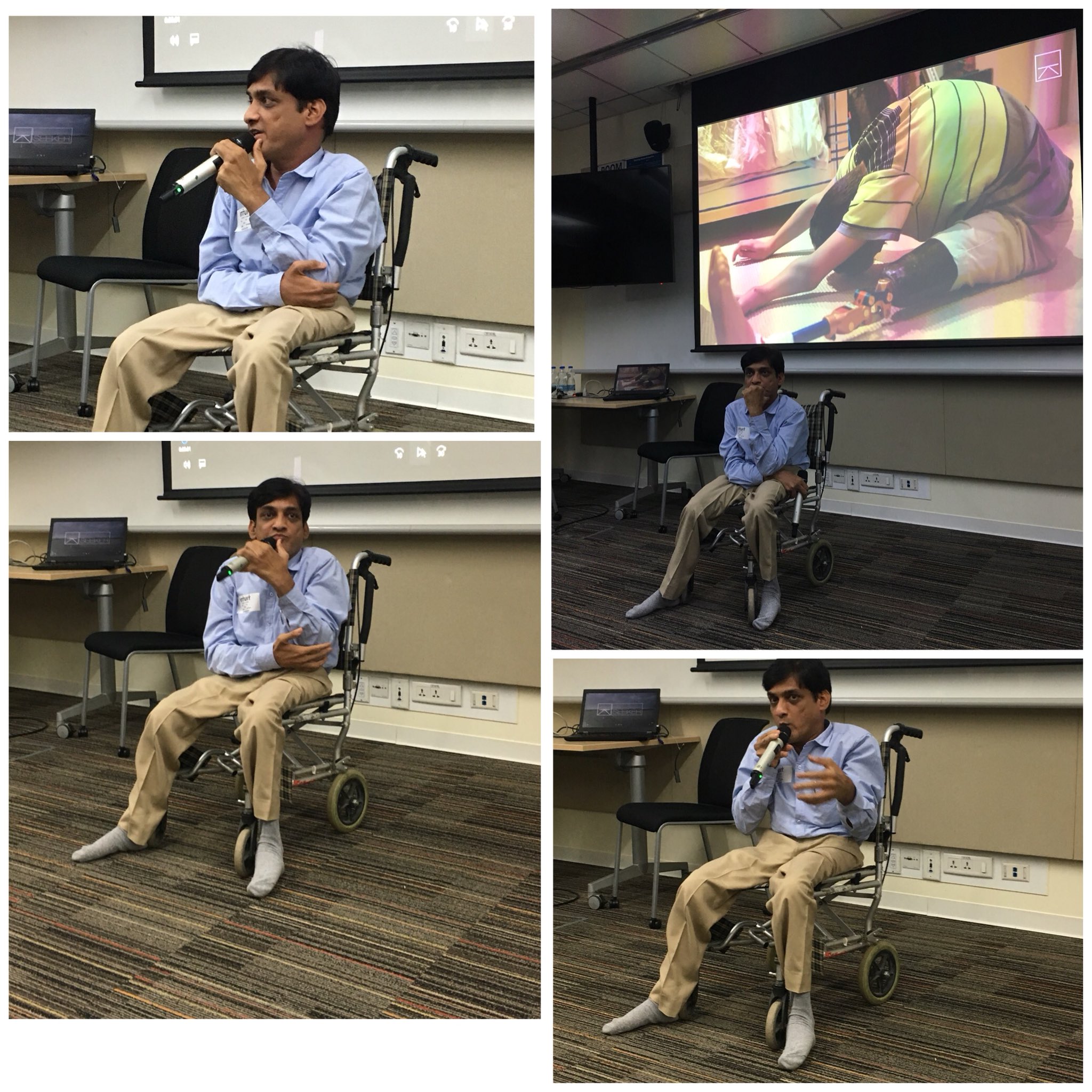 Then Sunil Jain, Founder Trustee and Chief Enabler of Astha spoke about importance and accessibility in sports. He has discussed about challenges faced while entering in the area of sports. He has rightly pointed out how children of today are not getting opportunity to play sport thus unable to develop power of thinking. He urges irrespective child having disability or not, everyone should be given an opportunity to play.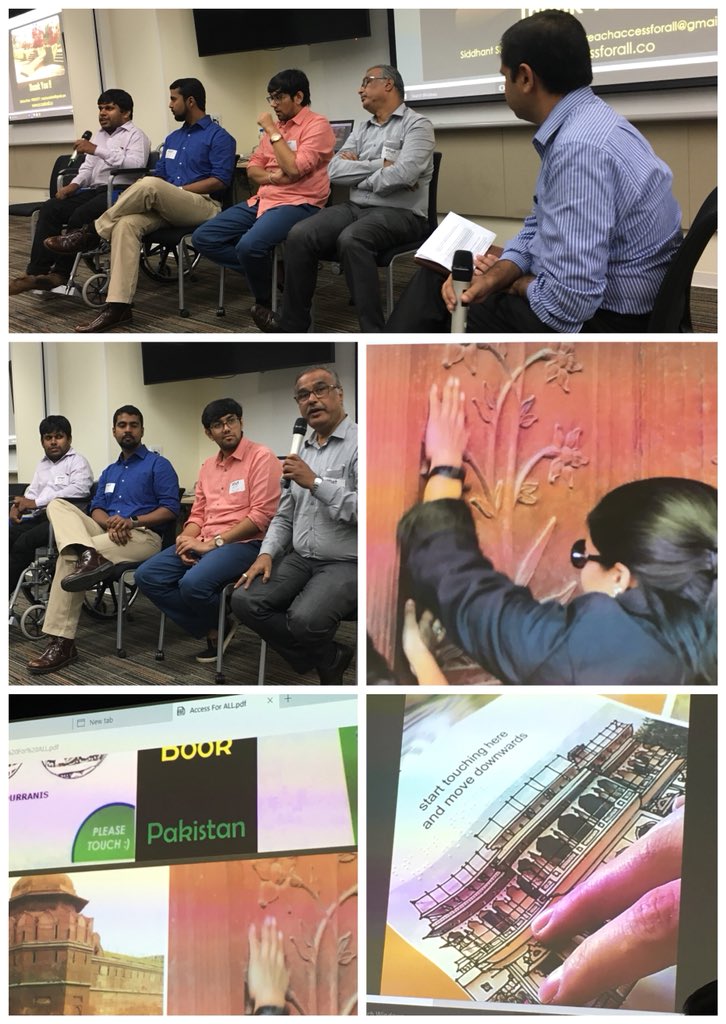 Next panel is about Accessibility achievements, challenges and opportunities; again moderated by Prateek. In this panel, Basavaraju, Commissioner, Persons with Disabilities, Government of Karnataka spoke about what accessibility means to him and what role his department should play for inclusion. Other panelists are Apoorv Kulkarni, Accessibility Lead at Ola, Siddhant Shah, Founder of Access for All and Krishna Kumar, Programme Manager (Accessibility & Technology) of GiftAbled. Each of them spoke about efforts put in by each of them to ensure inclusion both for their internal employees and customers.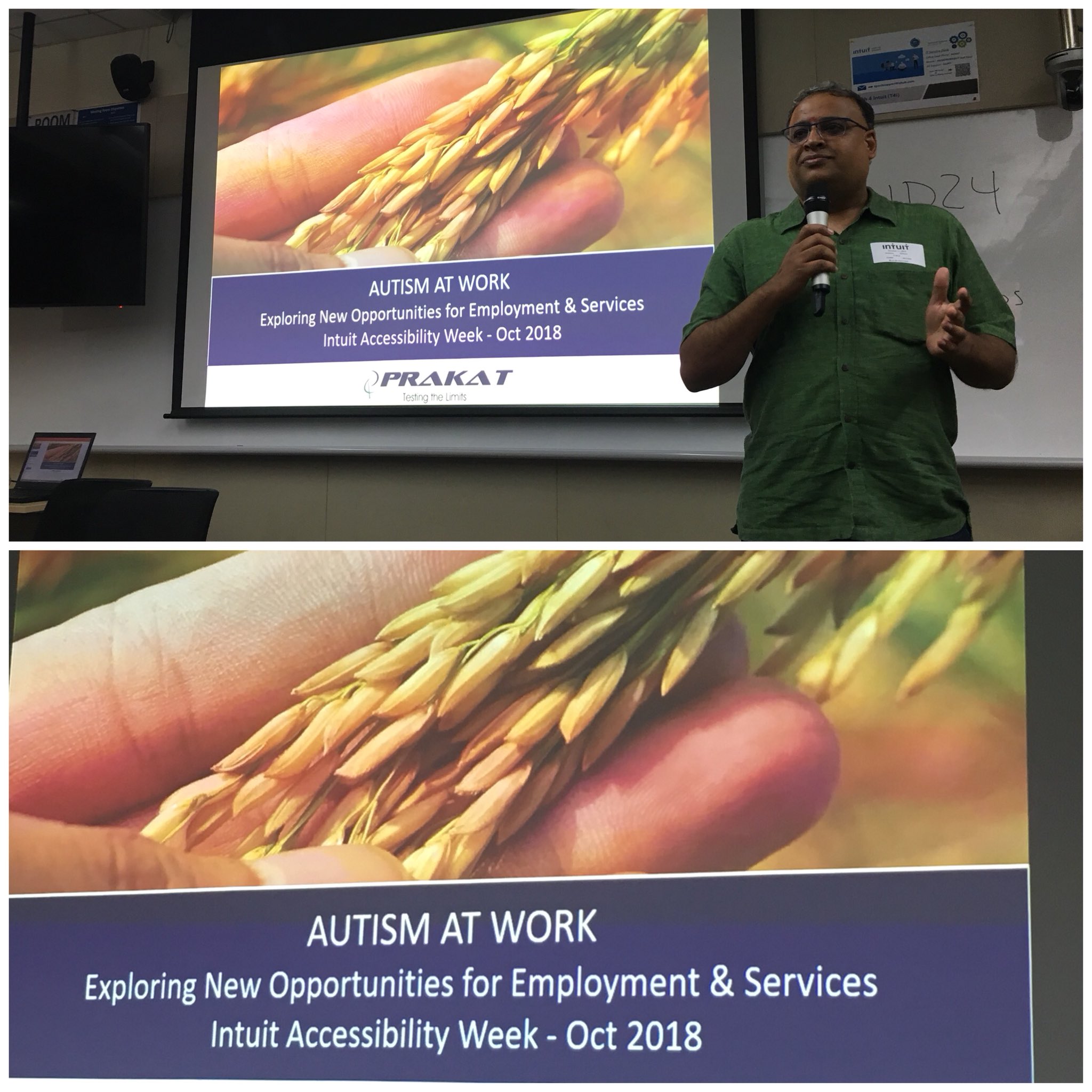 In the final session, Krish Srikant, VP of Customer Strategy, Prakat Solutions spoke about Autism at work: Exploring new opportunities for employment & services. He has talked about work that Prakat is doing in this area in Denver. 
Whole summit was anchored by Chandrasekhar, Talent Acquisition team member of Intuit. Fabulous inclusion T-shirts and goodies were distributed. Those goodies are crafted by people with disabilities and promoted by GiftAbled. 
Then we all have left for Bangalore Accessibility Awareness Dinner hosted by Intuit. It's great to see a lot of new people this time. A fantastic networking and of course great food!
All photo credits in this post goes to Prarthana and Ted!