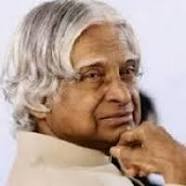 It was just last Sunday that Shri. Narendra Modi, The Prime Minister of India, during his talk in program "Mann Ki Baat", said that "these days it's rare to find out youth who says they would want to become a scientist; probably we would see 1 child in 100 children" and yesterday we have lost a great Scientist.
Dr. Kalam was not only a scientist, but also, a great teacher who could teach everything in a very simple manner, a great leader, a person who have grown right from a paper boy to the first citizen of India. Thanks to World Wide Web Conference and Retina India convention, I got a fortunate opportunity to meet him twice in person.
I've no elgibility to write about Dr. Kalam but he was and always remain a true inspiration. I have read his biography – Wings of Fire which illustrated the way he has grown and something I learnt from his biography is that "Let's not wait for resources to come in but let's just do what we desire".
A few words about him from Wikipedia:
Avul Pakir Jainulabdeen Abdul Kalam (Listeni/?æbd?l k??l??m/; 15 October 1931 – 27 July 2015) was the 11th President of India from 2002 to 2007. A career scientist turned reluctant politician, Kalam was born and raised in Rameswaram, Tamil Nadu and studied physics and aerospace engineering. He spent the next four decades as a scientist and science administrator, mainly at the Defence Research and Development Organisation (DRDO) and Indian Space Research Organisation (ISRO) and was intimately involved in India's civilian space program and military missile development efforts.[1] He thus came to be known as the Missile Man of India for his work on the development of ballistic missile and launch vehicle technology.[2] He also played a pivotal organizational, technical and political role in India's Pokhran-II nuclear tests in 1998, the first since the original nuclear test by India in 1974.[3]

Kalam was elected President of India in 2002 with the support of both the ruling Bharatiya Janata Party and the opposition Indian National Congress. After serving a term of five years, he returned to his civilian life of education, writing and public service. He received several prestigious awards, including the Bharat Ratna, India's highest civilian honour.
The day 27th July, 2015 remains indeed a sad day for all of us. We truly lost an inspiration. Most touching incident is that he was doing what he loves and cares about the most even at his last moment.
May the departed soul be rest in peace and may he bless all of us. May our youth get inspired by him and continue to show interest in science.
In prayers,
Srinivasu