It's again proved that any business go down; no matter how big or how historical they are. The company that has introduced internet to the world,Yahoo! has last night announced that Verizon to acquire Yahoo!'s operating business for about $4.8bn. Some of my memories with Yahoo!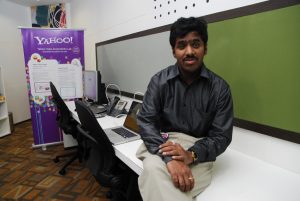 My first email address was vasu182000@yahoo.com which I have created in the year 1999. My interaction with people around the world was via Yahoo! Messenger and Yahoo! Chat Rooms. I still remember the warning from my teacher Dipti Masrani about how careful I should be while using chat rooms.
From 2009 to 2012, I had an opportunity to work at Yahoo! on Accessibility and that tenure has several memories. Yahoo! was the first multinational company that I have ever worked with. I still have my feeling in mind when I heard HR saying "You will be paid (a double digit) lacs per annually. The New Hire Orientation was just awesome, which included talking about company,its culture, introducing to each department.
Within about 3 months of time, we have expanded Accessibility Lab to Bangalore office and awareness about accessibility is well received. I was fortunate enough to work with several of top teams at Yahoo, including Mail, Finance, news, Messenger, Weather, Local, Autos, Home page, Education etc.,
In 2010, Yahoo! has sponsored Techshare India 2010 and hosted one day Accessibility event in partnership with W3C India. Yahoo! India was also receipient of of NCPEDP MphasiS Universal Design Awards.
Yahoo! is one among very few companies who have taken accessibility very seriously and to the extent that accessibility talks were included in hack-a-thon and other events too. I was honored to be one of the recipients of Yahoo! Ratna in 2010.
It's through Yahoo! I have first traveled to the United States of America and attended the fabulous CSUN Conference – attended once and presented second time.
It was during Yahoo! days, we bought our own house, I got married to Hema. It was Yahoo, who step up and helped Office of the Chief Commissioner, Disabilities to build an accessible website.
Even when we got laid off from Yahoo!, a good amount of severance package was given. That too process was very smooth. Thank you, Yahoo!
I'm glad Verizon will continue to keep Yahoo brand and I'm hopeful this will be a beginning to a new era.